Taojiayue-antioxidant & UV stabilizer specialist
Sourcing polymer additives are becoming easier these days. While with so many brands and so many kinds of additives,  it could be a headache choosing the right ones.  Don't be panic. Lin chemical has the knowledge, experience, and expertise to get the work done.
Lin chemical just focuses on antioxidant and UV stabilizers which used as stabilizer additives for polymers.  With hundreds of customer service experience, our team is capable to design antioxidation solutions for most polymer materials no matter it is plastic, or coating,  or adhesives, etc. Technical support is vital, so we have engineers online 7day by 24hours.
Fill out the form below if any inquiries or questions, we'll back to you shortly.
Contact us
Guangdong Taojiayue High-tech Material Technology Co., Ltd previously Guangdong TJY Chemical
Credit Code 91440115MA59BHKN6A
address: No.106, Feng Zhe east road, Nansha area, Guangzhou city, China
tel: 0086-020-39009190
email: info@linchemical.com
Whatsapp Skype WeChat  8618576344916
Ada hu's Business Card (click to save)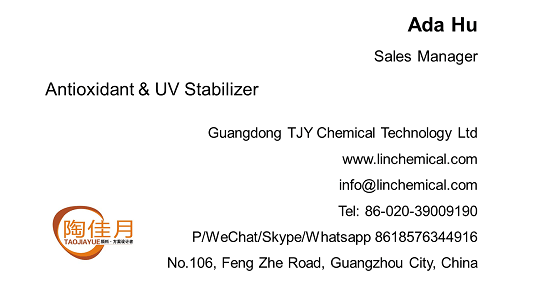 Links